Vintage Jukebox For Sale and Wanted
August 2018
---
Vintage Jukebox Repairs and Service - by Geoff Young, The Jukebox Man Phone 01522 68 55 00 to discuss your requirements.
Please no N.S.M or Jupiter as I specialise in Vintage valve type technologies.
FOR SALE:
Seeburg model 222 and 220 flat side windows NEW repro £300 per pair
Seeburg model 201 and 161 flat side windows NEW repro £270 per pair
Some curved glasses for other makes also in stock.

For more info Phone Geoff 01522 685500
---
Jukebox Lighting, all sizes available - Click here.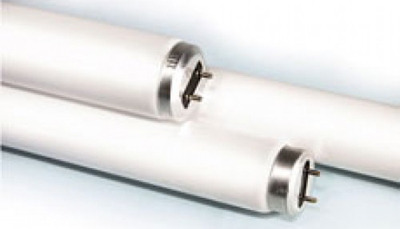 ---
FOR SALE: Classic jukeboxes for sale. Click here.

---
FOR SALE: Wurlitzer 2304.Wurlitzers last 50's Jukebox and the first stereo model. This is a great sounding jukebox in lovely original condition. Needs to be viewed to be fully appreciated.
£5,500 ono.
Call 0118 9698916 for more info.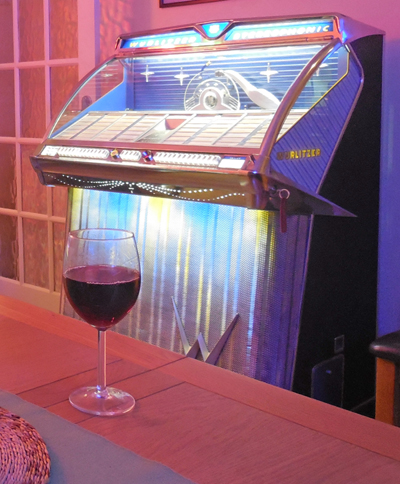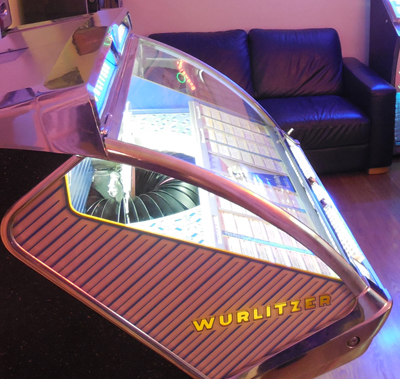 ---
Specials section here
---
FOR SALE: Wurlitzer, AMi, Seeburg, RockOla, Chantal, Mills and Classic investment quality Jukeboxes always available from THE BEYST JUKEBOX COMPANY. Telephone Eddy Beyst 01507 480385 www.JUKIN.co.uk
---
Jukebox Hire: - Reading, the Thames Valley, Berkshire, Oxfordshire and Surrey. Hire our classic 50's style Jukebox to add that extra something to your corporate event. Filled with original 45 records for an authentic vintage Jukebox sound! Tel: 0118 9698916 email rosshardydesign@btinternet.com
---
Jukeboxes for sale in the Home Counties
www.jukebox-sales-UK
---
Jukeboxes for sale in Essex www.jukeboxclever.co.uk
---
Jukebox City : Thornton Heath, Surrey. Sales and Service - Phone: 02086846239 rob@jukeboxcity.net
website: www.jukeboxcity.net
---
Looking for records for your jukebox? Then try my lists of 45's and 78's. Or I can search for individual items if you have a Wants List. Good stock always available, Friendly service. Phone Phil (A1 on the Jukebox) 01873 811537 e-mail gibsons@uwclub.net or write (SSAE please) Okefenokee, Dardy, Crickhowell, Powys, NP8 1PU
---
Runicorns Master 45 catalogue :NEW ADDRESS for Runicorns Records Thousands of titles to choose from all on new re-issued vinyl - 50's, 60's, 70's, RocknRoll, Country etc
I can help you jukebox lovers with your wants lists Runicorn Records, 2 Purneys Road, Eltham, London SE9 6HT
NEW Phone number:0208 850 7883steve@runicorns.freeserve.co.uk
---
Norman Terry Jukeboxes : Paul and Norman supply and repair the classic Wurlitzers, RockOlas, Seeburgs, and AMi.@ 78 RPM OR 45 RPM AND even CDs - Phone 01362694547 Web site www.normanterryjukeboxes.co.uk
---
The Jukeboxman - 01522 685500
Unit 11, Whisby Way Business Centre, Whisby Way, Lincoln, LN6 3LQ
© thejukeboxman all rights reserved.
Jukebox spare parts for vintage Wurlitzer Jukeboxes, Seeburg Jukeboxes, AMI Jukeboxes, Rock-ola Jukeboxes, NSM Jukeboxes, from Europes leading Jukebox spare parts supplier. Jukebox parts and Jukebox spares, Jukebox needles and styli for all makes of jukebox including Wurlitzer Jukeboxes, Seeburg Jukeboxes, AMI Jukeboxes, Rock-ola Jukeboxes, NSM Jukeboxes. Jukebox amp replacement valves, motors, castors and loudspeakers. Jukebox Maintenance, service, installation and operation manuals. Record dinkers. Jukebox title strips. repairs to all makes of Jukebox (except NSM and Jupiter). Jukebox keys and locks.
---
All Prices on this site in UK Pounds